1M³ Industrial 3D Printer
ITERATE FAST. PRODUCE FASTER.
GET TO MARKET FASTEST.
1M³ Industrial 3D Printer
ITERATE FAST. PRODUCE FASTER.
GET TO MARKET FASTEST.
SAVE UP TO 85%
Replace expensive, time consuming traditional production and outsourcing with in-house additive manufacturing to see massive savings today.
ALL STAGES OF PRODUCTION
Whether you need fast 3D printing, fine resolution, or engineering materials, the PRO delivers for any application from prototyping, tooling, to end-use parts.
With a 1 cubic meter build volume, the BigRep PRO is an industrial 3D printer for producing full-scale, large parts including functional prototypes, factory tooling, patterns and molds, and end-use parts. Built for productivity throughout all stages of manufacturing, the PRO provides designers, engineers and manufacturers with an agile solution to produce faster and cheaper.
Powered by a state-of-the-art Bosch Rexroth CNC Control System and BigRep's Precision Motions Portal, the PRO delivers on speed, precision and quality. Embrace agile manufacturing and rethink your prototyping and production process with smart technology designed to complement conventional machining methods and enhance the next generation of industrialization.
See the BigRep PRO in Action
This short demo will walk you through how fast and easy it is to print quality parts on the BigRep PRO.
Easy slicing with BigRep BLADE, our free slicing software
PRO hardware features and filament dry storage
Dual ACE extruders for engineering grade materials
Quality parts made fast, accurate, at a low cost per part
"  I didn't think I needed 3D printing and now I can't live without it. "
- Charles Boyce, President of Boyce Technologies Inc.


LARGE-SCALE & GERMAN ENGINEERED
Get to know the BigRep PRO 3D Printer

INDUSTRIAL 3D PRINTING

The 1m³ Build Volume
The PRO continues BigRep's tradition of innovation in large-format 3D printing. Designed to print massive, industrial parts, as well as batches of smaller parts, its fully enclosed one cubic meter build volume ensures consistent print temperatures and safety from hazards on the factory floor. Its glass doors allow visual monitoring throughout the creation of demanding, geometrically complex parts in full scale.
ROBUST & STABLE
The Precision Motions Portal
The PRO's massive 1m3 build volume is supported by its custom-built, heavy duty gantry engineered for high speed, fast acceleration, and heavy payloads. Its robust welded frame eliminates vibrations during printing assuring smooth movement of the extruders that glide along a reinforced double rail system. Sturdy Bosch servo motors power the precise movement with internal encoders able to calculate real-time location of the print head and self-monitor for position accuracy.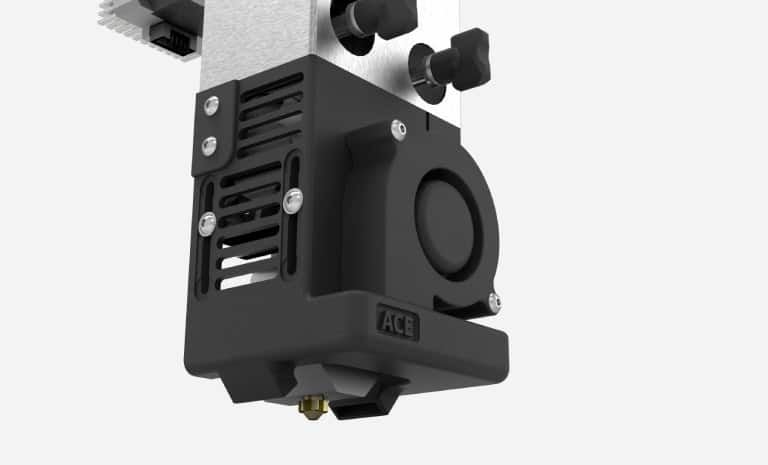 SPEED & PRECISION
The Fiber-Ready ACE Extruder
BigRep's Advanced Capability Extruder (ACE) expands the material capabilities of the PRO while still reliably delivering quality prints with speed and precision. ACE is a direct drive extruder, perfectly equipped for fiber reinforced materials such as BigRep's HI-TEMP CF. With ACE you can print large-format, strong parts 50% faster than other large-scale printers.
HIGHLY RESPONSIVE
The Bosch Rexroth CNC Control System
An advanced Bosch Rexroth CNC motion-control system elevates the PRO's responsiveness for unquestionable speed, precision, and repeatability. Local data collection for real-time monitoring with 32 integrated sensors ensures optimal print process and reliability. Fleet management is made easier with live webcam view of print progress. The industrial-grade BOSCH Safe Logic 2-channel failsafe system safeguards users by instantly stopping the portal if the enclosure is opened during printing.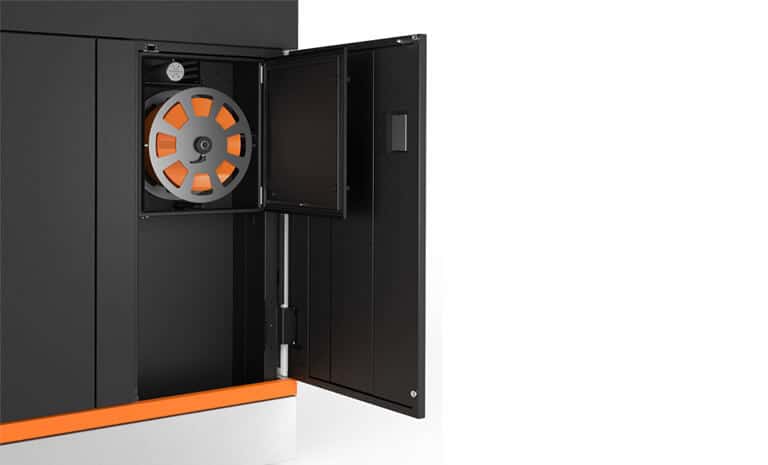 SEALED FILAMENT CHAMBER

The Dry Material Storage
The PRO's environmentally sealed filament chamber ensures that stocks of all materials, including engineering-grade and water-soluble, can be well maintained and remain consistently dry in ideal operating condition for reliable, repeatable, and quality printing. Well preserved filaments will help reduce extruder clogging and avoidable wear on components to reduce downtime and extend the life of your machine.
EASY SLICING
The BigRep BLADE Slicing Software
As one of the fastest and most precise slicer software on the market, BigRep BLADE is optimized for industrial part slicing for rapid, hassle-free 3D printing preparation. Its integrated estimation engine gives accurate printing time and material use predictions for unmatched planning and productivity. Preloaded presets for all compatible BigRep materials, as well as automated part orientation, batch placement, and support generation means you can easily slice your prints in just a few clicks.
"The first prints that we ran lasted 17 days. Since then, we have been running the PRO non-stop to print parts and components using its large capacity, high resolution and accuracy throughout the entire process. "
- Riley Gillman, Technical Operations Manager of Nikola Corporation
We have a team of experts ready to answer all your questions. Do not hesitate to reach out to us to get more information about Additive Manufacturing, best materials for your application, and how to implement it in your business!
You THINK BIG, we'll help you get there!