Building on the monumental success of BigRep's STUDIO large-format 3D printer, we're excited to announce the new and improved BigRep STUDIO G2. A new generation of workhorse 3D printers, the STUDIO G2 is made for engineering-grade materials.
"The new generation STUDIO G2 is a great addition to our expanding industrial portfolio of large-format printers. Based on proven, successful technology, the STUDIO G2 is upgraded with key features that industrial users need," said BigRep CEO, Stephan Beyer, PhD. "We've built it for printing with the engineering-grade materials the industry demands in a next-level, space-saving printer for large-format parts."
Offering unmatched speed and resolution in large-format additive, the German engineered and manufactured STUDIO G2 is specially designed for industrial applications. Thanks to its new fully enclosed and insulated build envelope of 1000 x 500 x 500 (mm), fast-heating build platform, and temperature-controlled filament chamber, the STUDIO G2 has been propelled to a class of its own. With its dual extruder equipped with two 0.6 mm ruby nozzles, the printer is capable of printing large-format parts quickly in ultra-fine detail with engineering-grade materials, such as PA6/66, at layer heights as little as 0.1 mm. Future materials to be released will include other engineering-grade materials like ASA and composite materials with carbon / glass fiber enhancement. The STUDIO G2 is available for order now.
"We are excited to host the world premiere of the STUDIO G2 at North America's most influential AM event – RAPID+TCT. We believe that both customers already relying on the original machine and new ones will appreciate the many advanced features of the STUDIO G2," said BigRep CBO, Frank Marangell.
Going above and beyond industry standards, features like modular temperature controls have been implemented to unlock engineering-grade materials that require precisely heated environments throughout the printing cycle. With the STUDIO G2, BigRep is answering the industry's demand for high-quality material capabilities in FFF 3D printers. Its heated filament chamber ensures that engineering-grade materials remain dry in a consistently controlled environment while the fast-heating build platform, reaching up to 100 °C in less than 15 minutes, surrounded by its fully insulated print envelope creates the ideal environment to achieve perfect material properties.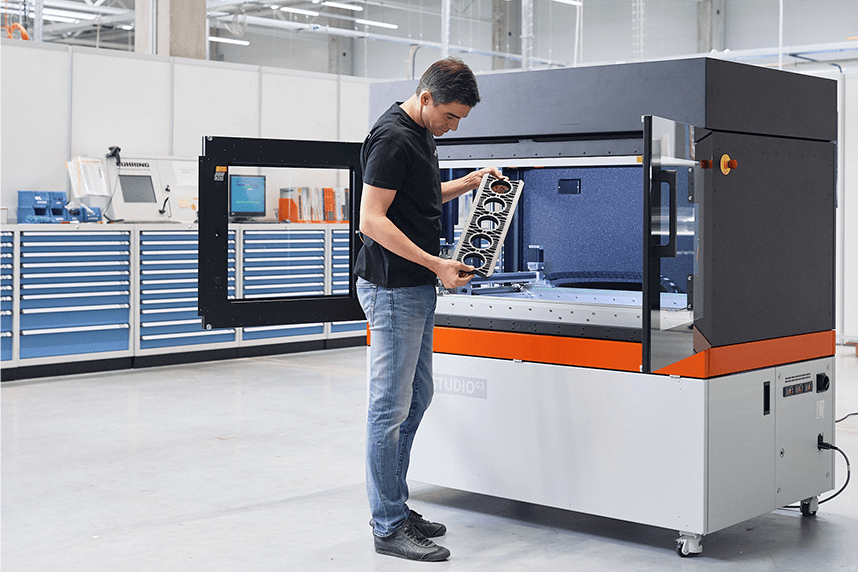 The BigRep STUDIO G2 makes creating large-format, high-resolution 3D printed parts a streamlined process. A new inductive sensor enables semi-automatic leveling of the build platform to ensure optimal calibration. Custom print speeds and material flow coupled with the modular temperature controls enable completely customizable optimization to suit any need. The STUDIO G2 works quickly and efficiently – helping business' deliver exceptional results.
The STUDIO G2 ships including the brand new, easy to use BigRep BLADE slicing software. BLADE allows for greater control of printing parameters while providing presets for all BigRep-compatible materials, making a rapid, hassle-free start to printing possible. The new estimation engine gives accurate printing time and material use predictions for unmatched productivity. BLADE is one of the fastest and most precise slicers on the market, specially designed for large-format prints.
The STUDIO G2 is ergonomically designed to fit any workspace with maximum ease of use and accessibility. Standing at an ideal height of 1765 mm, it's a sleek space-conscious workhorse machine that's optimal for all workspaces, from design labs to production floors.
As winner of the prestigious 2018 German Innovation Award the BigRep STUDIO is the ideal German-engineered 3D printer, proven for all types of industry professionals to bring their innovative designs to life. Now the STUDIO G2, specially designed for 3D printing with engineering-grade materials, propels the STUDIO G2 to a class of its own.
Come and see the new BigRep STUDIO G2 in Detroit, Michigan at Rapid+TCT, unveiled May 20th at booth 503.