The 3D printed car is still a dream that has to come into reality. But you can already have 3D printed car parts in your own vehicle today.
And large 3D printers allow you to have full scale interior parts or body kits.
Passion and Vision
Jeremy Katz, owner of JK Automotive Designs in Stoneham, Massachusetts, is one of the many American entrepreneurs that has built a business from the ground-up. With a lifetime of experience working with automotive suppliers, businesses and enthusiasts, Katz saw an opportunity to make his passion profitable.
JK Automotive Designs  is an automobile interior designer and manufacturer that builds custom upholstered interiors from scratch that consist of dashboards, consoles, door panels and more with integrated audio and visual systems to improve the vehicle's aesthetics and functionality. From personal restoration projects to high-performance customization requests, JK Automotive Designs is willing to take on the most challenging tasks. With a 5,000 square foot facility filled with state-of-the-art technology, Katz and his team believe they are ahead of the curve and defining the future of automotive customization.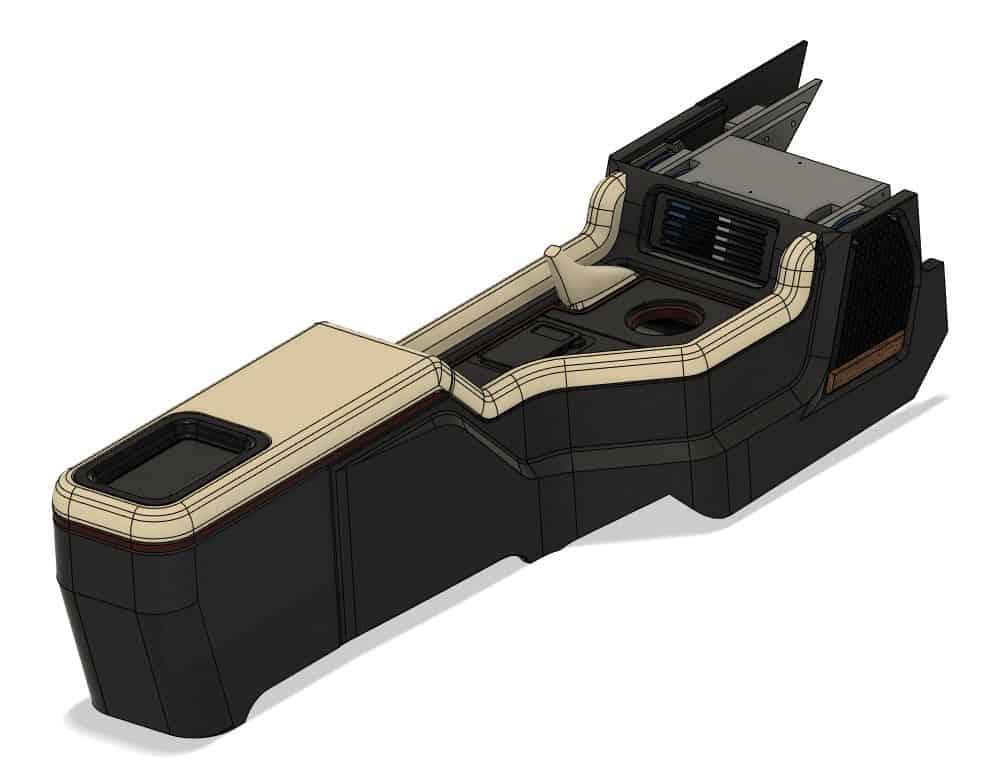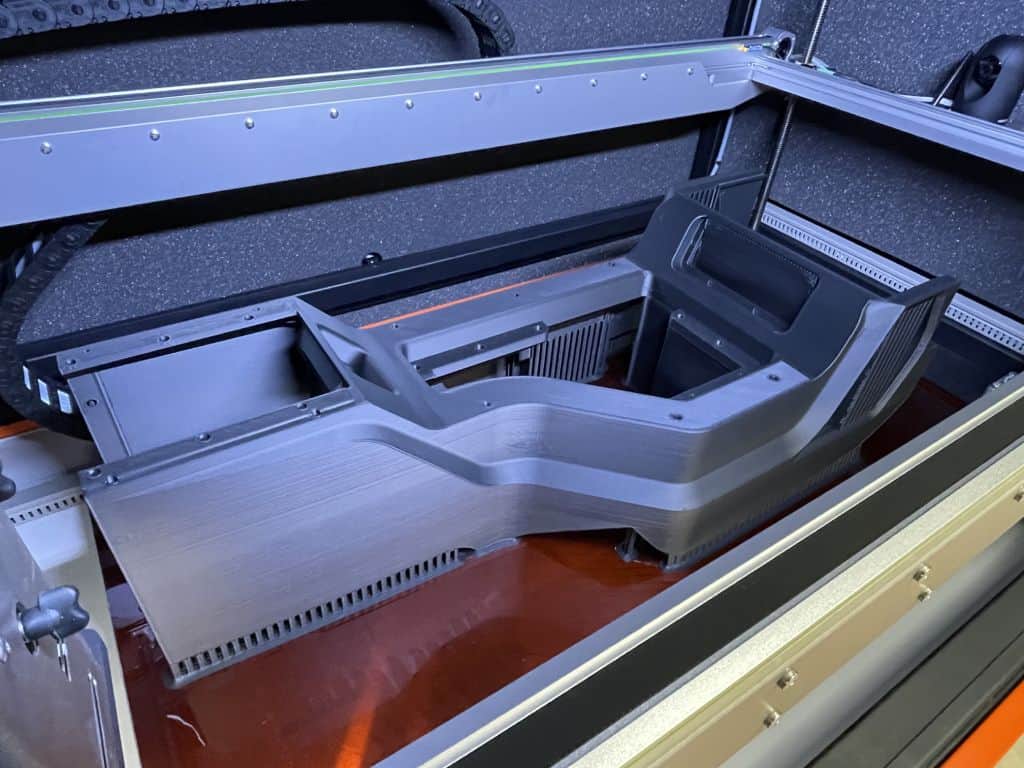 "For this '73 Bronco console, we 3D printed with our in-house BigRep 3D printer. This is by far the largest print we have tried and couldn't have been happier with the results. The console consists of 6 main printed parts that bolt and magnetize together to create this massive console that we could not have made by hand."
"We take a different approach and stay ahead of the curve," Katz humbly responds when asked about his business. "By embracing different technologies, we can offer more to our clients and continue exceeding expectations." Equipped with 3D scanning, CNC, multiple laser machines and several 3D printers, Katz and crew are able to do more, with less. Most notably, the BigRep STUDIO G2 enables the team to 3D print large trim panels and frames that are directly mounted to the vehicle.
Most 3D printing technologies are used as a tool for rapid prototyping purposes (quick iterations, form, fit and function testing). However, JK Automotive Designs saw an opportunity and decided to take advantage of the BigRep STUDIO G2's size benefits and material capabilities.
Engineering Made Easy
"We have been 3D scanning, designing in CAD, and building parts for quite some time," says Katz. "But we needed something bigger that would give us more flexibility and be compatible with stronger materials. The BigRep STUDIO G2 and Pro HT materials did exactly that." Believe it or not, Katz and his team are self taught CAD designers, machinists, and installation specialists. The BigRep STUDIO G2 is specifically designed to be a simple piece of machinery for users but Katz and his team are pushing the limits and developing hybrid manufacturing solutions that are actively changing the game for automobile customization.
"Our team is hyperfocused on productivity and quality. The expertise in this shop is second-to-none and together, we complement each other's strengths to maximize our output." Katz expresses gratitude for his team and makes it clear that his employees and their capabilities are what sets them apart in the industry. Adding the BigRep STUDIO G2 to the facility is like adding another professional and Katz relies on the same productivity and quality.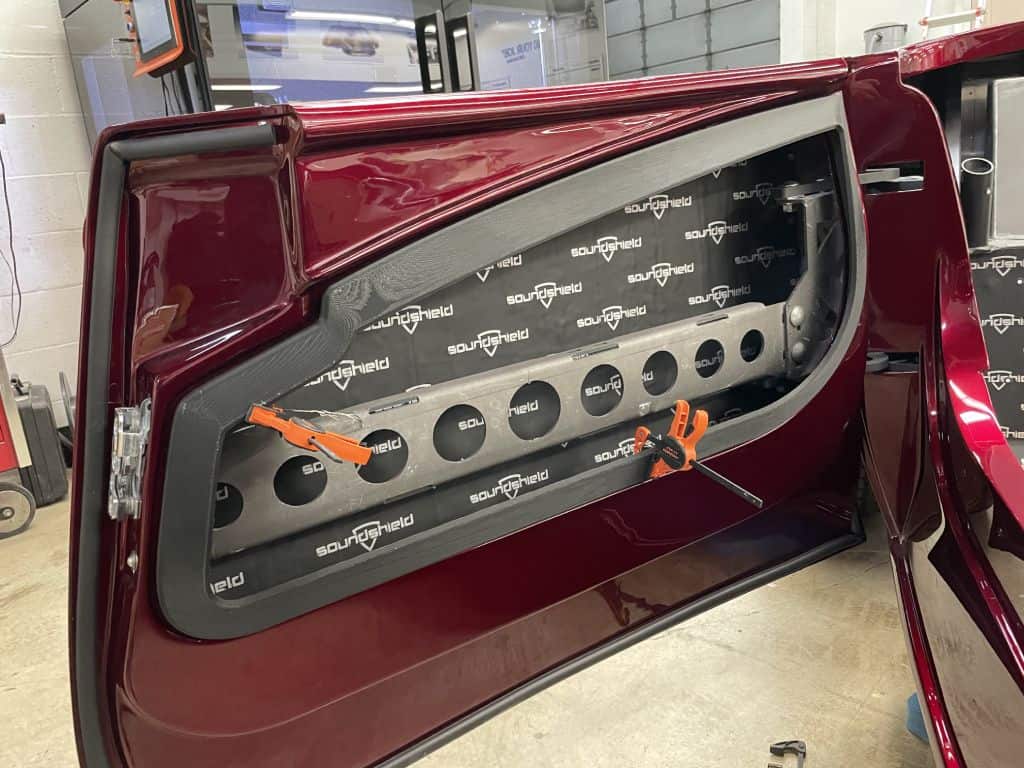 For example, JK Automotive Designs was tasked to develop a full interior for a 33 Ford Roadster. One of the components designed was a custom door panel that required an unconventional approach. The door itself had an odd contour and complex design that made it challenging to machine or fabricate with traditional processes. Not to mention, expensive and time consuming. Instead, the team digitized the existing frame with their Creaform 3D scanner, reverse engineered it, and brought it into CAD. Then designed the panel and sent it directly to the BigRep STUDIO G2.
The STUDIO 3D printer requires no additional user operation so while it's printing, the team is able to work on other aspects of the job. 56 hours later the part was bonded to a flat panel, previously machined on the 3-axis CNC, and ready for fit and finish. JK Automotive Designs added a new arm rest also printed on the BigRep STUDIO G2, upgraded the electronics, and eventually placed the hybrid (half machine/ half printed) door panel to the vehicle.
"The conventional way to produce something like this is highly manual,'' Katz says. "You would need to heat plastic and bend it to get it to fit close, then use body fillers to achieve perfect fitment. With the BigRep and 3D printing, it fits perfectly the first time which really helps us stay on project timelines."
| Process | Time | Cost |
| --- | --- | --- |
| CNC Machining | 4+ days | $ 3,000+ |
| BigRep STUDIO G2 3D Printer | 56 hours | $ 896 |
| Savings | ~80% Time Savings | $ 2,000+ per part Savings |
Thinking BIG
"Technology is just another tool for us to solve problems. Our mindset is to redefine next generation trends and that is what differentiates us from anyone else in our industry." Katz postulates as he rotates a design on his computer and passionately shares the future of his business. Dedicated to the craft, the JK Automotive Designs team is constantly educating themselves and doing whatever it takes to stay ahead of the curve. The automotive aftermarket is incredibly unique and ultra competitive so it's important to embrace innovation. "We want to be trend setters," says Katz. "To that end, we only use the best techniques and equipment available in the industry."
For more information on BigRep 3D Printers, check out our full line up of industrial 3D printers. Let us help you THINK BIG!
Want to Learn More About Car Customization with 3D Printing?
Learn how digitizing the customization process drastically reduces production time and number of stages while saving money and material costs. Also hear from Jeremy Katz, owner of JK Automotive Designs to see how his company embraced different technologies to exceed client expectations. Don't miss out, watch the webinar now:
DIGITIZING PRODUCTION OF CUSTOM LARGE FORMAT AUTOMOTIVE PARTS
Request Pricing or Talk to a 3D Printing Expert