LARGE-FORMAT 3D PRINTER
FOR INDUSTRIAL APPLICATIONS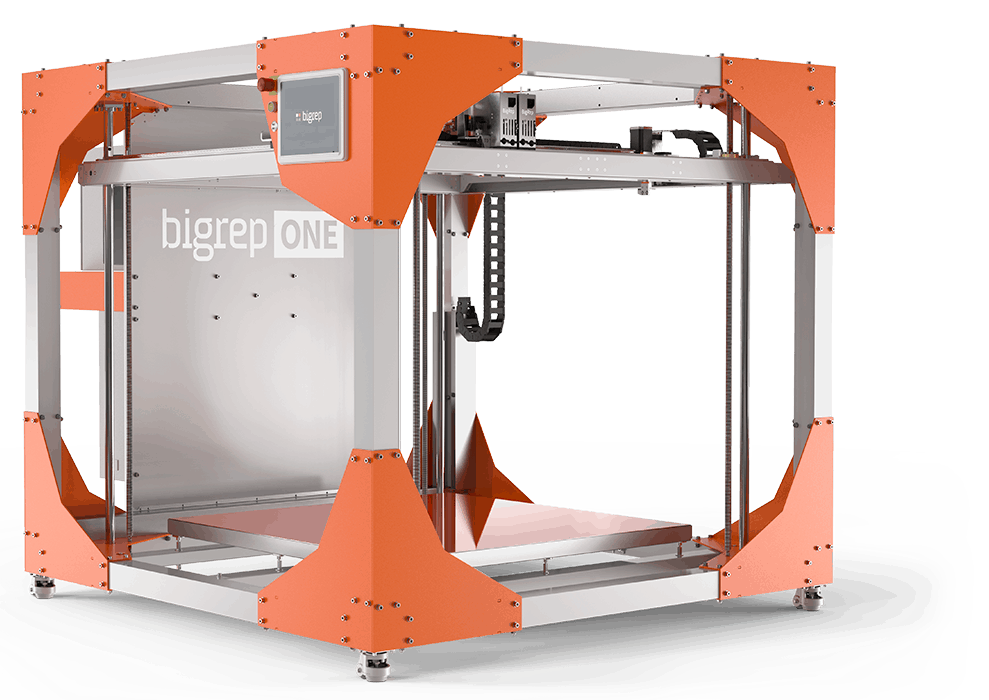 THE GRAPHICAL USER INTERFACE

THE GRAPHICAL USER INTERFACE
New intuitive user interface on touch panel PC, enabling lots of new features as remote load and check print progress via webcam, resume print after power failure and many more.
THE FRAME CONSTRUCTION
THE FRAME CONSTRUCTION
The open format ensures that the user has the best possible view for monitoring the quality and progress of the object at all times. All moving parts have been enclosed for user safety and to reduce contamination.
Integrated sensors ensure safety, precision, and user-friendliness.
THE PRINT BED
THE PRINT BED
The heated print bed provides optimal adhesion in the printing process right from the onset. Thanks to the integrated automatic inductive sensor, the print bed can be levelled quickly and effortlessly, reducing prep time considerably.
THE PRINT HEADS
THE PRINT HEADS
The modular print heads operate independently, allowing for unbeatable flexibility when printing with two materials or with water-soluble support material (PVA). They can be easily adjusted and replaced without the need for tools. During the printing process, the active print head moves downward slightly to avoid making contact with the object. The print heads were developed by BigRep's in-house team and optimized for large-scale printing projects.
THE SPOOL HOLDER
THE SPOOL HOLDER
The spool holder was designed to fit all standard spool sizes. It can hold several spools up to 8 kg. A run-out detection system notifies the user when the spool is about to end.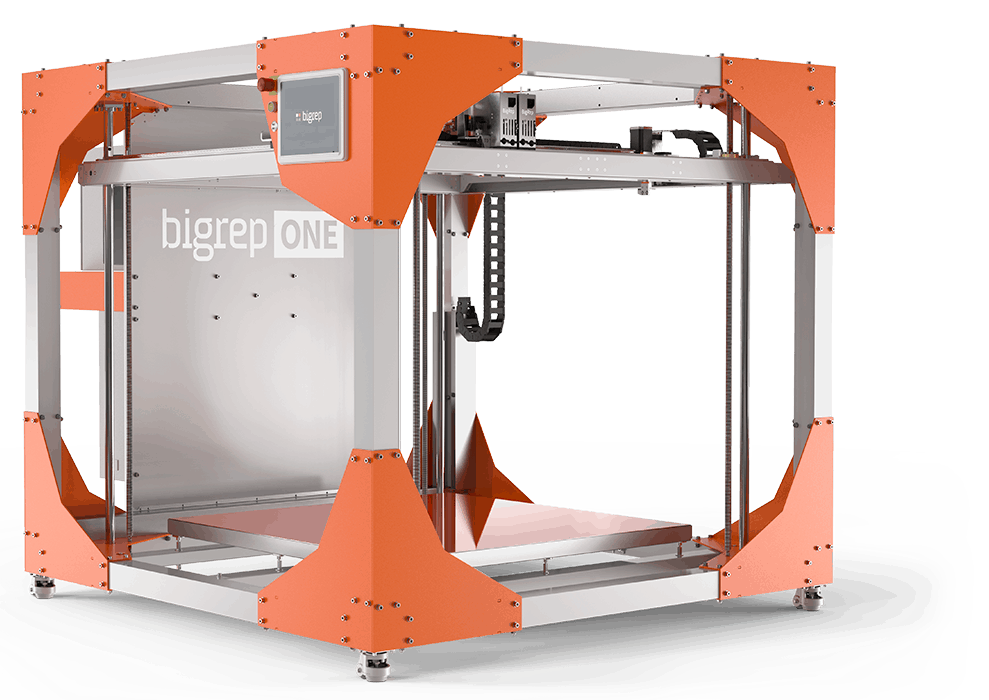 LARGE-FORMAT 3D PRINTER
FOR INDUSTRIAL APPLICATIONS
BOOST PRODUCTIVITY

Join industrial leaders and increase your productivity by up to 94%. Create products and tooling in-house and on demand. Iterate fast, and get immediate results.
CUT YOUR COSTS

BigRep customers have cut up to 85% of costs, and so can you. Replace slow, expensive, outsourcing with in-house 3D printing and realize massive savings today.
WORLD-LEADING PRODUCTIVITY AT AN ACCESSIBLE PRICE
German-engineered to work around the clock
The BigRep ONE is a world-leading large-format 3D printer at an accessible price point. With an install base of over 400 systems, it's a trusted tool of industrial manufacturers around the world. Featuring a massive one-cubic-meter build volume, the ONE works quickly and reliably to bring your designs to life in full scale.
Perfect for high-strength industrial applications or prototyping in full scale, the ONE comes equipped with two BigRep Power Extruders that feature interchangeable 0.6, 1.0 and 2.0 (mm) nozzles for high-flow or maximum detail additive manufacturing.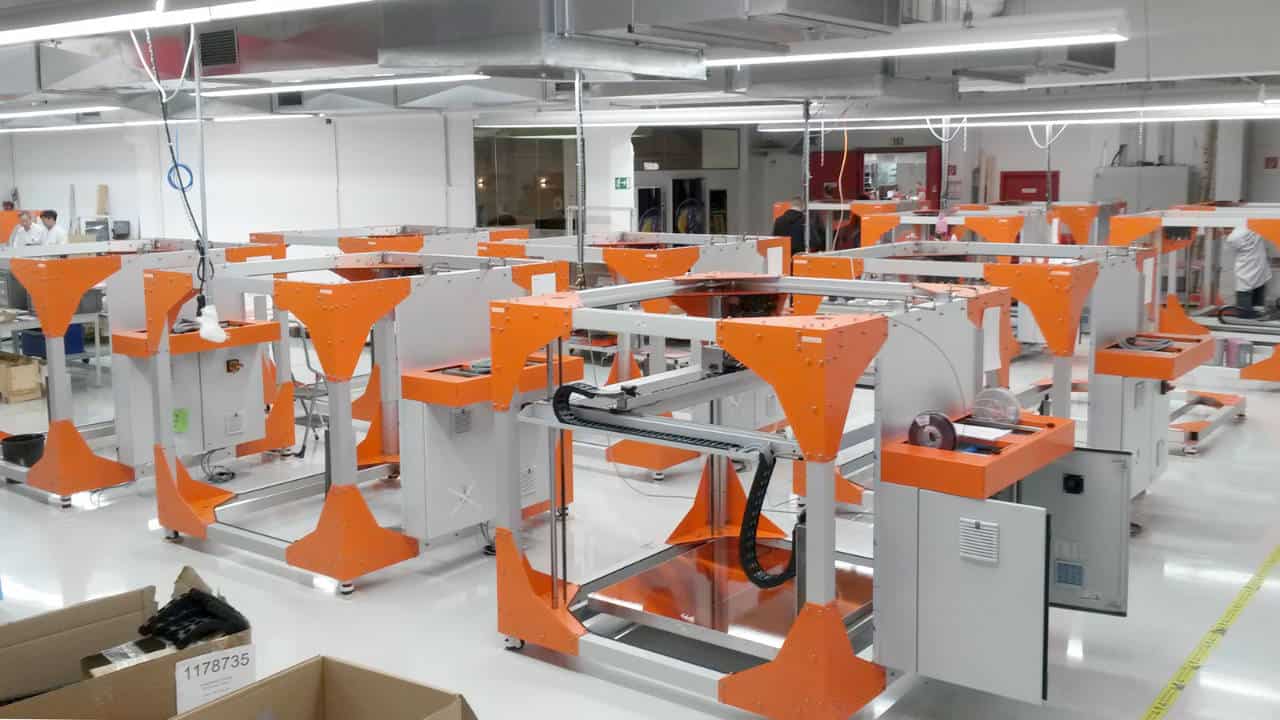 Designed for high flexibility in industrial production environments
The ONE's extruders can operate either independently for mixed material production, or simultaneously with tandem mode to print an object twice at once for double the speed during batch production. With an open frame, it's easy to monitor the ONE's quality and progress or remove large industrial prints from an ideal angle.
Recipient of the 2016 German Design Award and created by BigRep - winners of the 2018 German Brand Award - the ONE is a large-scale FFF 3D printer that has been expertly built for industrial professionals by industrial professionals.
AWARD-WINNING INDUSTRIAL DESIGN FOR BIG IDEAS
ACCESSIBLE
Engineered for durability with an award-winning industrial design, the BigRep ONE is a world-leading large-format 3D printer at an affordable price point. Leveraging FFF additive manufacturing to offer the lowest possible cost per part for full-scale industrial production, the ONE is ideal for efficient in-house product development and industrial production.
EFFICIENT
High flow rates ensure minimal lead times for full-scale print jobs so product teams can iterate quickly and unlock the best design faster than ever before. With the best ratio of build-volume to resolution on the market, the ONE is flexible enough to create detailed, large-format parts at incredible speed to address your business needs, whatever they might be.
TRUSTED
Industrial users trust the BigRep ONE for high-performance 3D printing that doesn't compromise quality in a wide range of applications. With an install base of over 400 worldwide, the ONE is an award-winning large-format FFF 3D printer expertly made in Germany for full-scale additive manufacturing. Trusted by world-class brands around the world, the ONE is a manufacturing solution for industrial leaders.
POWERED BY

BLADE, BigRep's easy to use slicer software, allows for greater control of printing parameters on all BigRep large-format additive manufacturing systems. Its integrated estimation engine gives accurate printing time and material use predictions for unmatched planning and productivity.
As one of the fastest and most precise slicers on the market, this cutting-edge software is optimized for industrial part slicing to make for a rapid, hassle-free start to printing.

LARGE-SCALE & GERMAN ENGINEERED 3D PRINTER

Advanced Features in a State-of-the-Art System

INDUSTRIAL 3D PRINTING

The Massive Build Volume
The ONE began BigRep's tradition of  innovation in large-format 3D printing. With a one-cubic-meter build volume, it's made to print massive, industrial parts. It's an effective and accessible solution for the creation of demanding, geometrically complex applications in full scale that are beyond the capabilities of smaller systems.
SAFE & ACCESSIBLE

The Open Frame
The open frame ensures unobstructed print monitoring and easy access to the print bed. User's can easily check the quality and progress of their print at any time and remove parts from multiple sides. Smaller moving parts are enclosed and portal motion is protected by two pressure sensors attached to the frame at its top and bottom to ensure operator safety.
FAST & PRECISE

The BigRep Power Extruders

Two modular BigRep Power Extruders operate independently to produce high-quality, multi-material parts, enabling the use of water soluble supports to streamline post processing or creative combinations for advanced applications. Featuring interchangeable 0.6, 1.0 and 2.0 (mm) nozzles for high-flow or maximum detail additive manufacturing, the BigRep Power Extruders are a flexible solution for a variety of industrial challenges.
FLEXIBLE & PRODUCTIVE

The Tandem Production Mode

The two BigRep Power Extruders can spread apart on the printer's Y-axis to operate simultaneously in tandem mode, a feature that uses both extruders to print an object twice at once. Extending the ONE's use beyond just large-format parts, tandem mode enables efficient production of parts in batches at double the speed of regular production.
SECURE & SPACIOUS

The Filament Enclosure

Designed to run 24/7, the ONE comes with ample room for industrial filament storage. Its filament enclosure is designed to protect up to two 8 kg spools, or more of a smaller size, from dust and moisture whether stored or in use. In-built sensors will pause prints before reaching an empty spool to ensure a smooth material transition during large-format prints.
CONSISTENT & EFFICIENT

The Semi-Automatic Print Bed

The heated print bed is coated with a polyimide foil that provides optimal adhesion throughout the printing process. Thanks to an integrated inductive sensor, the ONE uses semi-automatic print bed leveling to streamline build platform calibration and ensure peak performance and consistent prints.
"  I didn't think I needed 3D printing and now I can't live without it. "
- Charles Boyce, President of Boyce Technologies Inc.

 Learn about Boyce Technologies' Additive Solutions to Win Business in our free case study!
Build Volume

x 1005 y 1005 z 1005 (mm))

Extruder Type

Two modular extrusion heads

(default)

Nozzle diameter

Standard Extruder with 1 mm nozzle
Power Extruder with 0.6 mm, 1 mm and 2 mm nozzles

Max. Extruder temperature

250 °C

Filament diameter

2.85 mm

Layer height

0.1 - 1.4 mm

Monitoring

Out of filament sensor, webcam

Max. acceleration

Up to 400 mm/s²

Position repeatability

± 0.1 mm

Surface

Polyimide

Max. temperature

80 °C

Consumables

PLA (Standard, Ultralight, Antibacteria), PRO-HT, HI-TEMP, PLX, PETG, TPU, BVOH

Printer Dimensions x,y,z

x 1850 y 2250 z 1725 (mm)

Approx. Weight

460 kg

Safety Certification

CE

Connectivity

USB, LAN

Power

208 V – 240 V, 16 A, 50/60 Hz
Learn more from our case studies
Request Pricing or Talk to a 3D Printing Expert
 Help Us Understand Your Needs