Boost creativity & gain knowledge with 3d printing
Learn how universities and research institutes support scientists and students with the help of Additive Manufacturing.
Can't wait to find out what 3D printing can bring to your institution?
SUPPORT INNOVATION
Provide researchers and scientists with the right tools and methods to invent and prototype much faster.
REVOLUTIONIZE TEACHING
Create new methods to impart knowledge and reimagine the way students learn.
INCREASE CREATIVITY
Enable students to think more creatively by freeing them from restrictions of traditional processes.
3D print to inspire students & innovate faster
Universities and research institutes have always been spearheads of innovation and progress. While educators are tasked with teaching students the most up-to-date, accepted knowledge, it is also their duty to challenge old beliefs with new ideas and discoveries. Students must be inspired to adopt new ways of thinking, revolutionize scientific methods, and use novel technologies, such as 3D printing, that can relieve the restrictions of tradition production methods. Additive Manufacturing is crucial for producing prototypes for fast-paced experimentation and iteration. The 3D printer is an ideal tools for researchers, scientists, students, and teachers to test new ideas and unleash their creativity.
At TH Wildau, engineering students get hands-on experience by 3D printing the gearbox housing they designed themselves.
To optimize the aerodynamics of blade and wing profiles, researchers at Kingston University 3D print components to be tested in a wind tunnel.
At Aalborg University, students 3D printed a fully functional bicycle frame, taking full advantage of their BigRep 3D printer's large build volume.
enhance virtual realities with 3D printing
At POLYAERO, the technical aeronautical training school at Aix-Marseille Université, students get the theoretical and practical knowledge required to maintain and repair various types of aircraft, like airplanes and helicopters.
To provide students and teachers with the best equipment and all the tools required, 3D printing has been introduced as a versatile and essential technology. Used in conjunction with POLYAERO's virtual reality system, students combine insight into processes with a real, hands-on experience.
POLYAERO owns several aircraft for student to use for hands-on training. 
Students have access to 3D scanning technology to scan objects, such as parts in need of repair.
Using a BigRep 3D printer, students can print scanned parts, as well as new designs, tools, and prototypes.
3D Printed Car Parts For
Solar-Electric Vehicles
Researchers, universities, and companies worldwide take part in automotive  competitions. These racing challenges may involve combustion-engine cars to electric cars or even solar-electric vehicles. 3D printing consistently proves to be an essential manufacturing method to support them in their technological race.
Large scale additive manufacturing makes it possible to produce lightweight parts that fulfill very specific requirements. It also gives designers and engineers the possibility to quickly produce inexpensive models that can then be tested, for example in a wind tunnel, further optimising a car's performance.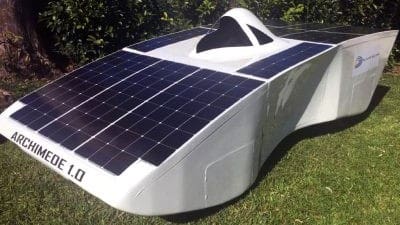 Archimede 1.0 is the solar race car designed and built by the team of Futuro Solare, who took part in the 2020 edition of the European Solar Challenge.
Battery holders for Archimede 1.0 are specifically designed to be 3D printed, ensuring a perfect fit within the confined spaces of the car.
Team Sonnenwagen from Germany's Aachen University tests their 3D printed prototype for the World Solar Challenge in the wind tunnel.
3d printed race car body built by students
At Germany's Helmut-Schmidt-Universität, Hamburg, the Eleven-O-Six team of students built a race car to compete in the annual Formula Student event. Their car's special feature: the complete bodywork was produced in a 3D printer.
This approach allows the team to iterate quickly to experiment with new body shapes and designs. From design to finished part in less than two days, various concepts can be validated without the need for time consuming lamination processes.
Using CAD software, the Eleven-O-Six team of students design the components for the race car body.
Then they can immediately print the parts in full scale using the university's in-house BigRep 3D printer.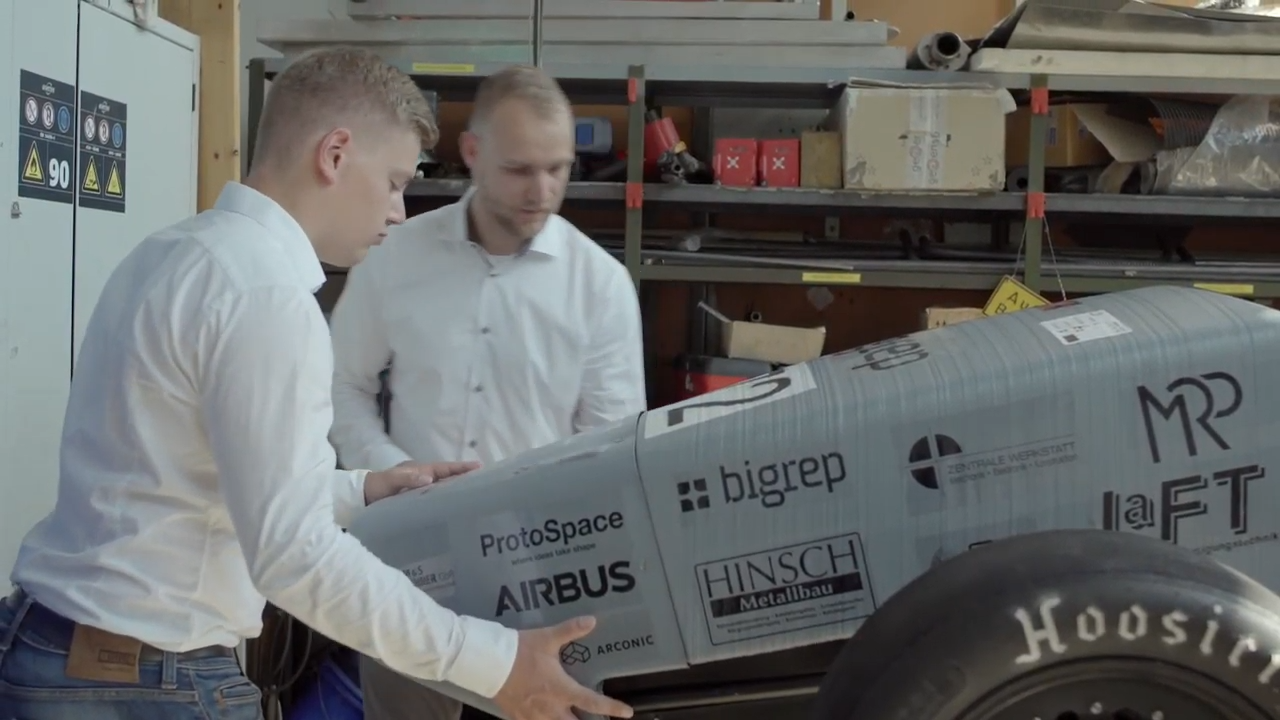 From initial design to part assembly, it's only two days for the team to realize their design!
"We needed to put more physics into Virtual Reality – the mass of objects to be moved, geometrical encumbrances such as firewalls, etc. And thus, to transform Virtual Reality into Mixed Reality.
Xavier Bonnardel, founder and director of POLYAERO
"Students start to think about future fields of application of 3D technology. For that purpose, it's very important for the students to understand the technology."
Prof. Dr. Dana Mietzner, TH Wildau
"The most important thing 3D printing does for you: it doesn't limit your imagination!"
David Haskell, Senior Engineering Technician, Kingston University

Autodesk is a leader in 3D design, engineering & entertainment software used by students, teachers, and professionals alike.
Fraunhofer is a German research institute focusing on different fields of applied science.

The Sony Computer Science Laboratory engages in fundamental research in areas of science that pushes the state of the art in computing.
A partner of the Technical University in Munich, Germany, UnternehmerTUM is a center for innovation, research and company creation.
Esberg Engineering College, Aalborg Universitet, Aalborg, Denmark.
Kingston University London is a public research university located in the United Kingdom.
FH Aachen University for Applied Science, Aachen, Germany.
FH Aachen University for Applied Science, Aachen, Germany.
Helmut Schmidt University, Hamburg, Germany.

School of Architecture at Louisiana State University, Baton-Rouge, USA.

The Design Museum in London, UK exhibits product, industrial, graphic, fashion, and architectural design.
Technical University of Applied Sciences Wildau, Brandenburg, Germany
We have a team of experts ready to answer all your questions. Do not hesitate to get in touch to get more information about Additive Manufacturing, best materials for your application, and how to implement it in your business!
You THINK BIG, we'll help you get there!