Electric Vehicles with 3D Printed Prototypes, Tooling, and End Use Parts
BigRep printers are used in every stage of Electric Vehicle (EV) production to produce smarter, cut costs, and get to market faster.
You can't wait to find out how 3D printing can revolutionize your electric vehicle production?
SAVE TIME 
Reduce lead times, avoid outsourcing, and save time with streamlined processes.
REDUCE COSTS
Bypass expensive machining by directly printing end-use parts and low-cost patterns.
PRODUCE SMARTER
Leave conventional ways of development and manufacturing behind to design and produce smarter.
As a relatively new and booming industry, electric vehicles (EVs) are already taking over the land with electric cars and trucks, e-bikes, e-scooters, and e-motorcycles. Moreover, EVs are also flying in the air with drones and eVTOL (electric vertical takeoff and landing vehicle) and navigating the sea with new products like electric personal watercraft. BigRep customers create products spanning this wide spectrum of EV types, but they also use their BigRep 3D printers throughout every stage of production from concept design to prototyping, factory tooling, patterns, molds, and even end use parts.
EV Concept Design with 3D Printing
What tool could be more perfectly suited for producing out of this world concept vehicles than a large-format 3D printer? BigRep's own in-house innovation team produced several of these electric vehicles to show just how far a little imagination can go when you have a BigRep machine at your disposal. Both the NERA e-Motorcycle and the LOCI Electric Podcar are 100% 3D printed, save for the electrical components, and are optimized for a reduced number of parts and fast production on BigRep 3D printers.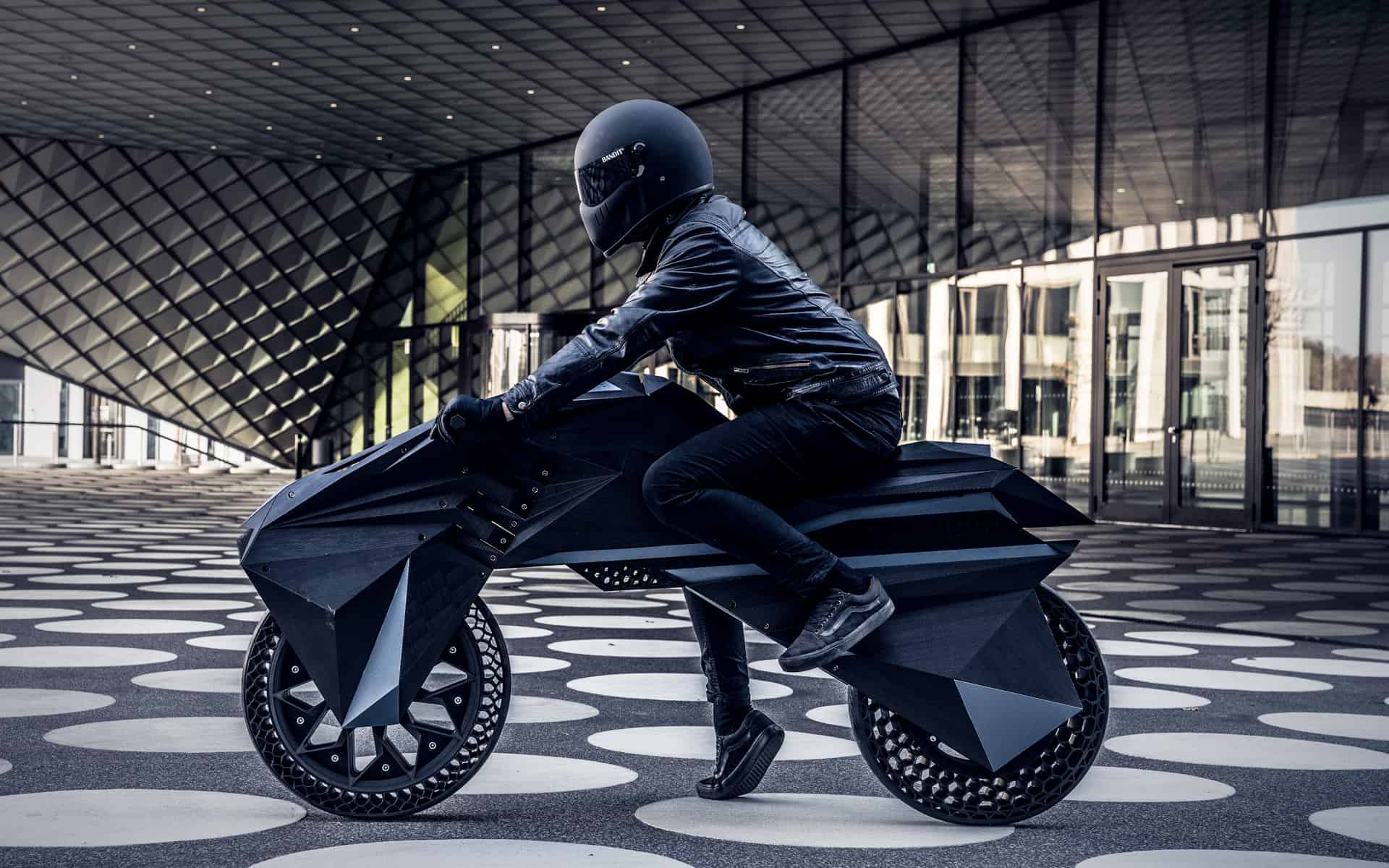 NOWLAB, NERA E-MOTORCYCLE
The world's first fully 3D printed e-Motorcycle was created, from initial idea to its maiden voyage, in just 12 weeks. This proof of concept shows that a fully customizable, functional e-bike is indeed a reality.
NOWLAB, LOCI Electric Podcar
The 100% 3D printed podcar tackles transportation challenges at a local level, offering adaptability and customization for unique locations. This concept vehicle has three iterations specific for Berlin, San Fransisco, and Dubai.
3D Printed Solar-Powered Racecars 
Spurred by global events like Australia's international solar-car race, the Bridgestone World Solar Challenge, researchers are already working towards electric vehicles with integrated solar panels. 3D printed car parts are helping engineers to rapidly prototype solar-powered cars, accelerating research into fossil fuel alternatives for consumer vehicles. These developments promise new horizons of environmental responsibility, energy independence and unfettered access to power and mobility across the world.
TEAM SONNENWAGEN, Solar Racecar Aerodynamics Prototype
Aachen University's Team Sonnenwagen used a 3D printed model to test the aerodynamics of their solar racecar for the World Solar Challenge. Since the university's wind tunnel was too small to test their full-sized vehicle, they 3D printed a 1:2.5 scale model.
Futuro Solare, Solar Racecar Prototypes and End Use Parts
Since their custom design was constantly changing during development, Futuro Solare 3D printed end-use fixtures for their solar racecar's battery block. BigRep gave them an affordable, lightweight, and heat-resistant solution with parts 3D printed with BigRep's HI-TEMP filament.
Carbon Fiber eVTOL Parts with 3D Printed Patterns
Airflight produces eVTOL (electric vertical takeoff and landing vehicles) that function as intelligent flying cranes to hoist heavy loads with precision. The lightweight, carbon fiber body is produced with 3D printed patterns and molds. By replacing high-cost CNC milling with 3D printing for low volume production, Airflight is able to iterate their designs quickly without increasing costs. The large build volume of BigRep 3D printers is perfect for producing the full-sized parts they need.
3D Printed Jigs and Fixtures for Electric Vehicles
Companies like Nikola and XEV use the BigRep PRO to manufacture full-scale component prototypes for the design and development of their EVs. In addition, they 3D print jigs and fixtures to help in production. By 3D printing these parts instead of CNC milling or outsourcing manufacturing, both companies save time and money, while gaining flexibility throughout many production processes.
Nikola Corporation, Electric Trucks
Nikola relies on the BigRep PRO to 3D print inspection fixtures requiring a high level of precision. In addition, the PRO is producing test components for fit checks on the company's vehicles, and manufacturing some end-use parts.
XEV, Custom Electric Cars
XEV uses their BigRep PRO to produce prototypes, fixtures, and factory tooling to manufacture customizable electric cars. 3D printing has allowed for fewer components, faster technical updates and significantly reduced production cycles.
3D Printed Components for Factory eMobility
The factory of the future requires great flexibility to manufacture customized products and small batches. 3D printing can improve the factory environment in faster, more cost-efficient and creative ways. From people movers to automated logistics carriers, there is a world of possibility to optimize logistics with  large-scale 3D printing. Customized tools, production aids, and  transporters are not only feasible, but also faster and cheaper to produce with 3D printing.
BMW, Factory Personal Mover
To make the working lives of employees easier and more efficient, global automaker BMW Group created the Personal Mover Concept. The handlebar stand, which contains the entire electrical system, the battery and the drive wheel, was 3D printed on the BigRep ONE.
NOWLAB, Omni Platform
The innovative Omni Platform is a fully 3D printed 360° mobile industry platform for highly flexible applications in automated manufacturing environments and smart factories. It can move in any direction without turning and carries 200 kg on a load area of 100 by 80 cm.
NOWLAB and Bosch Rexrothe, NEXT AGV
The NEXT AGV is a 3D printed autonomous transport system with a load capacity of up to 250 kg. The base framework of core elements (battery and electronics) are enclosed in a 3D printed shell that can be easily adapted for flexible industrial applications.
EV Customization with 3D Printed End Use Parts
When producing low-volume or customized electric vehicles, large-format 3D printing is virtually the only solution to achieve competitive pricing and time to market. Jamade's electric water scooters and XEV's electric cars show that BigRep 3D printers are a perfect tool for producing customized end use parts in full scale.
Jamade, AMAZEA Electric Aquajet
Jamade uses 3D printing for 75% of components for their AMAZEA aquajet, a personal watercraft with replaceable, rechargeable batteries and innovative design. They used the BigRep ONE due to its cost efficiency, accuracy, and quality when compared to the extremely high investment for traditional tools, particularly in the first year's lower production volume.
XEV, Custom Electric Cars
XEV uses the BigRep PRO for small volume test production as they develop many customized versions of Yoyo (their electric car) components. Thanks to the standardized fixing method between the customized parts and the car body, the 3D printed pieces will be able to be modified and changed with significantly less engineering work.
"We were expecting accuracy when we bought the machine, but we weren't expecting that level of accuracy. Forty-micron accuracy – that's impressive."
Riley Gillman, Technical Operations Manager at Nikola Motor
"The PRO gives us better geometric precision thanks to its reliable machine design. Then it's versatility provides us more opportunities to try different material and processes. With the PRO, it's much faster for us to develop more customization possibility and applications."
Jiawei Wu, Additive Manufacturing Director at XEV
"BigRep allowed us to iterate large-scale carbon fiber parts 5x times cheaper than with standard CNC milling. With one machine we can produce prototypes, molds, jigs, and fixtures."
Mikkel Kærsgaard Sørensen, Technical Director and Co-Founder of Airflight
We have a team of experts ready to answer all your questions. Do not hesitate to reach out to us to get more information about Additive Manufacturing, best materials for your application, and how to implement it in your business!
You THINK BIG, we'll help you get there!