Flexible TPU Filament with Engineering Properties
BigRep's TPU 3D printing filament opens up a wealth of possibilities for manufacturers and customers. BigRep is proud to include this material innovation in its range, which is a first for the large-scale 3D printing industry globally.
Compatibility:
BigRep TPU has been expertly developed and tested for use with BigRep's largest industrial 3D printers, the BigRep ONE and STUDIO, on the standard extruders with 1 mm and 0.6 mm nozzles.
TPU at a glance:
Flexible (Shore 98 A)
Temperature resistance up to 100°C
Very high-impact strength
UV resistant
Durable, with excellent damping behavior
Dynamic properties
Chemical resistant (for wide range of chemicals)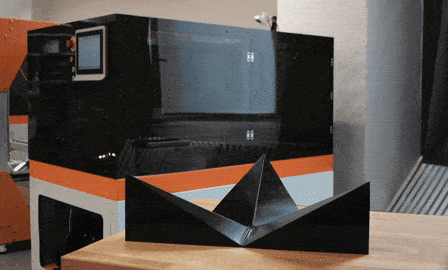 BigRep TPU is a filament enabling companies to explore a broader range of manufacturing opportunities using 3D printing technology.
For the automotive industry, it enables prototyping for gear knobs, door handles, cable sheathing and more. In the sporting goods industry, there is potential for rapid prototyping of skateboard wheels, sporting shoe shells, ski tips and ends.
This filament is based on a medium kind of TPU, with BigRep having mastered the difficult process of extruding the material in a stable manner.
Filament Net Weight:
2.0 Kg
Material:
TPU
Density:
1.2 g/cm³
Diameter:
2.85 mm
Print Temperature Guideline:
195 - 230 °C
Heating Bed:
0 - 60 °C
Vicat Softening Point

(ISO 306)

:
115 °C
Tensile Strength

(ISO 527):

40 MPa
Tear Strength

(ISO 34-1B):

175 kN/m
Ultimate Elongation

(ISO 527):

470 %
Hardness

(Shore):

A 98